Development of the Banking System in Georgia
Tea Kbiltsetskhlashvili

International Black Sea University
Abstract
Over fifteen years have passed since the beginning of the reconstruction of the transition countries' banking systems. The analysis of the development of commercial banking in Georgia and other transition countries points out several features, which are typical for the starting period of financial sector reforms. It turns out from this article that the success of the reconstruction of banking sector in certain countries differs substantially. Since the starting of reforms the Georgian banking sector has passed two development periods ending with banking success. The first period can be named as a "wild" and the second as a "naive-optimistic" banking period. The development cleared the banking sector of weaker links and showed both the central bank and the management of operating banks the directions for improving banking regulations and management international practices. In my article I do not deal only with the success of the reforms of a Georgian banking sector from the aspect of the growth of assets but also paid a lot of attention to the changes in quality. In this study I researched the extent of the growth of the Georgian banks' creditability, the stability of their working results, the conformity of services to clients' needs, the harmonization of banking regulations with the European Union's requirements and the implementation of good International banking practices in Georgia. For today the transition period in Georgian banking has been actually passed. The banks operate in accordance with modern market economy patterns in every respect. The cornerstones of the Georgian banking sector reforms success have been stable economic policy as well as stable currency and the central bank's policy incisiveness, which forces the reforms.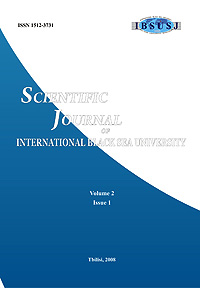 Section
Legal and Social Sciences, Economics
Keywords
Georgia; Banks; financial market; credit; development
Authors who publish with this journal agree to the following terms:


Authors retain copyright and grant the journal right of first publication with the work simultaneously licensed under a Creative Commons Attribution License that allows others to share the work with an acknowledgement of the work's authorship and initial publication in this journal.
Authors are able to enter into separate, additional contractual arrangements for the non-exclusive distribution of the journal's published version of the work (e.g., post it to an institutional repository or publish it in a book), with an acknowledgement of its initial publication in this journal.
Authors are permitted and encouraged to post their work online (e.g., in institutional repositories or on their website) prior to and during the submission process, as it can lead to productive exchanges, as well as earlier and greater citation of published work (See The Effect of Open Access).